Commissioned by 80+1 A Journey Around the World, Ars Electronica, Voestalpine, Linz 09. Created in collaboration with Team 4040.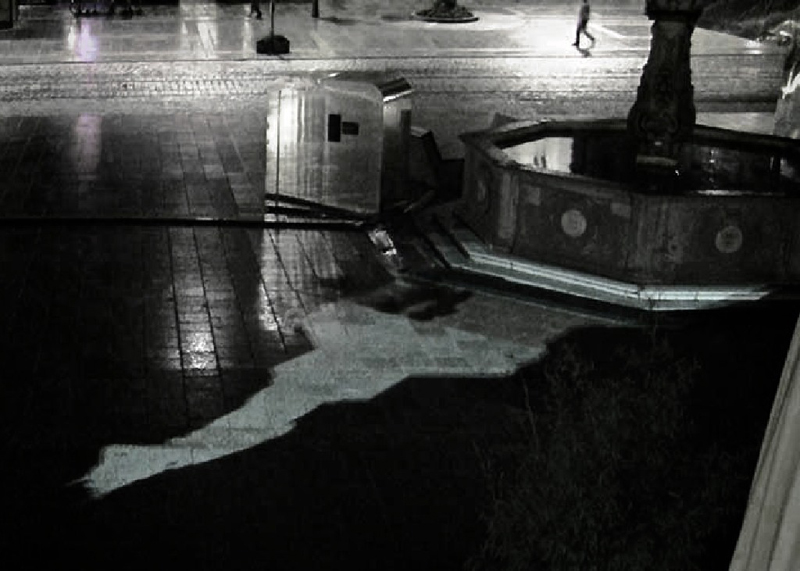 White Shadow is an interactive installation: a telematic sundial that connects people in two remote locations. The installation plays with our perception of tradition, migration, time, and distance.
The Monument to Cuauhtémoc, who was the last Aztec ruler and is considered a symbol of Mexican identity, casts its shadow in Mexico City during the day. The shape and orientation of its shadow change with and mark the passing of time. A camera in front of the Stone of the Sun at the National Museum of Anthropology in Mexico City captures images of people passing by. A computer then extracts the silhouettes of people from the background. These silhouettes are then streamed to Linz at night (8 hours time difference to Mexico City). The streamed silhouettes of the Mexican museum visitors are received by a computer in Linz and composited in black against a white shadow of the Cuauhtémoc Monument. The resulting image is projected in real-time on the Hauptplatz so that the white shadow seems to be cast by another structure – the fountain in the Southern part of Hauptplatz. Another camera records the view on the projection and the visitors on Hauptplatz. This footage is then streamed over the internet, made available for everybody to view online, and shown on a computer screen to the visitors of the National Museum.
At night, the main square in Linz is illuminated by the white shadow of Cuauhtémoc's Statue, connecting the two locations, Linz and Mexico City, in time and space. The shadows of the Mexican museum visitors, passing a symbol of Aztec culture and achievement, the Stone of the Sun, are reduced to shadows in another country. Migrants carry their history and traditions wherever they go. In their host country these migrants tend to resemble shadows, barely noticed with their traditions and customs, instead often reduced to a featureless workforce.